The UK international money transfer company, Transferwise, has stopped offering money transfer services to Nigeria. At least for now. The fintech has been one of the best options for Nigerians in the diaspora to send money back home because of its low transaction cost and speed.
Why is Transferwise Not Sending Money to Nigeria?
The company first suspended transfers to Nigeria in 2020 but later resumed the service. However, Wise will suspend all USD money transfer services to Nigeria effective from November 1st, 2022, until further notice. The company says sending money to Nigeria has not been as fast or reliable as they would like to.
A notice on Transfewise Nigeria page simply says, "Because of a recent change in regulation by the Central Bank of Nigeria, we're no longer able to support transfers to NGN." Transferwise does not specify the recent change in regulation in its notice.
A note sent to Transferwise partners on Thursday reads in part:
Our team has been working hard to try and keep this route open, but unfortunately we've had to close it for now. We are working on finding solutions and will keep you updated, however there is not timeline on when the route will reopen at the moment.
When we tried to send 1000 euro and dollars to Nigeria, we received the following message: Sorry, you can't make transfers to NGN at the moment. We're working to change this as soon as possible. Please check back here for updates.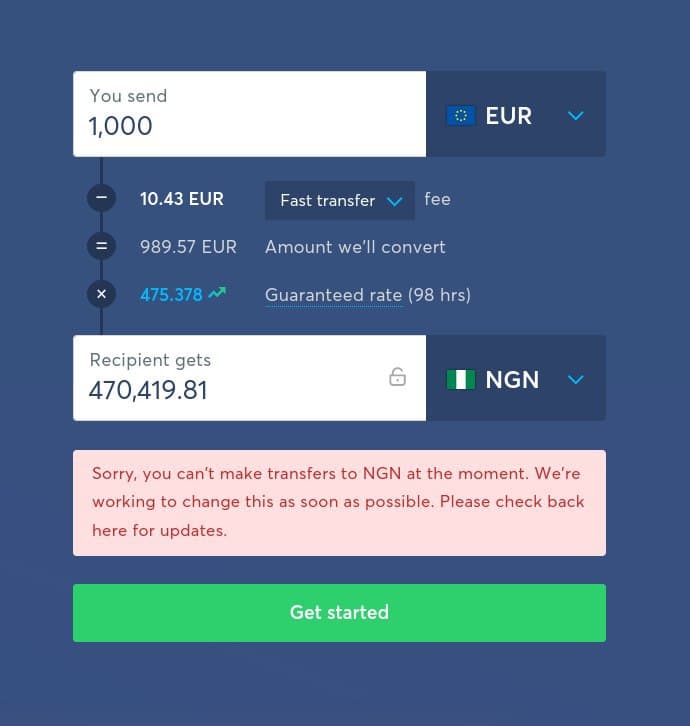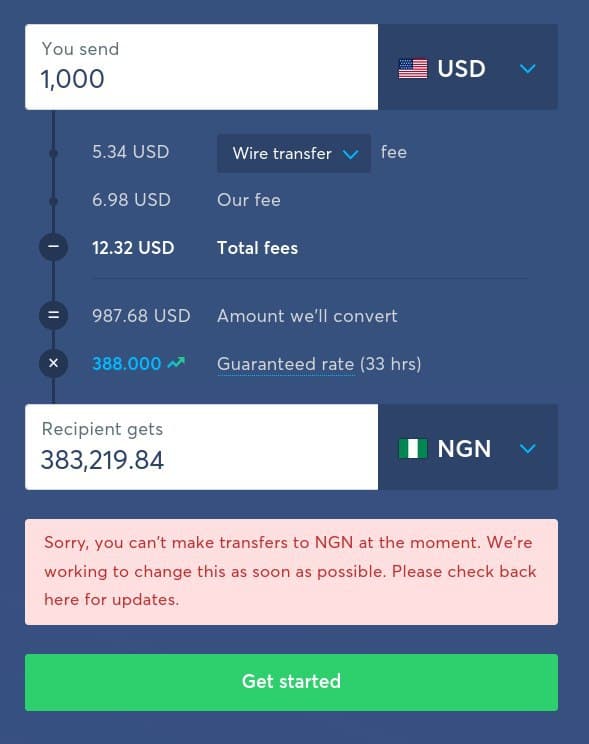 Central Bank of Nigeria Disclaims Transferwise
On November 16, 2020, The Central Bank of Nigeria (CBN) released a disclaimer against Transferwise saying the fintech is not licensed to run money transfer services in Nigeria. Another UK money transfer company, Azimo, was also cited in the disclaimer as operating in the country without a license.
The disclaimer says:
The attention of the Central Bank of Nigeria (CBN) has been drawn to the activities of Messrs. Azimo and Messrs. Transfer Wise, both of which are purportedly transacting business, albeit unauthorised, as International Money Transfer Operators (IMTOs). The Bank wishes to notify the general public that neither Messrs. Azimo nor Messrs. Transfer Wise is licensed by the Central Bank of Nigeria to operate as an International Money Transfer Operator (IMTO).
Regulatory Change in Nigeria
On November 20, 2020, CBN announced a major change relating to international money transfers to Nigeria. In a new policy directive, CNB allowed beneficiaries of diaspora remittances to receive US dollars into their bank accounts as well as cash withdrawal in dollars to boost foreign currency liquidity. After oil revenue, remittances are the second-largest source of foreign exchange.
Transferwise Money Transfer Hack
What makes Transferwise unique is the fact that it does not move money across borders to complete international transfers. It has a simple, innovative model whereby it sends money from their account in a local bank in Nigeria to your recipient's bank account in Nigeria. Moreover, it does not make money from currency exchange like other money transfer services. It uses the actual exchange rate that you see when you look on Google
Well-known investors such as Andreessen Horowitz, Sir Richard Branson, and co-founder of PayPal Peter Thiel have invested in the company.
TransferWise started in early 2011 with its two founders, Taavet Hinrikus and Kristo Käärmann, making transfers between just British pound and euro. It has since one of the leading money transfer services, making up to 8 times cheaper to send money abroad compared to using a bank. It was developed by the people who built Skype, it uses peer-to peer technology to get rid of all the charges banks and brokers have kept hidden for decades.
Top Transferwise Alternatives to Send Money to Nigeria
Luckily, there are other options you can use to send money to your relatives and family members in Nigeria. They include WorldRemit, Xoom, Remitly, and Exchange4Free. You can also use crypto-based remittances startups such as Cryptofully, Bitsika, Sendcash, and BitPesa. Alternatively, you can transfer the money via Bitcoin to Nigeria without any external services.