Exchange4Free is a money transfer service that allows individuals and businesses to send money to Africa with zero transfer fees regardless of the amount. Some of the supported countries include Ethiopia, Uganda, Angola, Botswana, Ghana, Kenya, Nigeria, South Africa, Egypt, Morocco, Zambia and Zimbabwe.
Advantages of Using Exchange4Free
There is no transfer fees or hidden fees
Multiple receiving and payment methods
Most transfers are fast
Disadvantages of Using Exchange4Free
Customer support may take long to respond
Some transfers can be slow
How Exchange4Free Works
To start sending money with Exchange4Free, you need to register on the website or you can download their apps, Android and iOS. The process of registering and sending money is done in simple steps. You must fill out the registration form and send copy of passport and proof of address (not older than 3 months). When your account is setup, you are ready to make your transfer by creating a beneficiary and send money to Exchange4Free client account.
Exchange4Free Payment Methods
There are two ways you can fund your transfer with Exchange4Free, bank transfer and debit/credit card.
How to Receive Money from Exchange4Free
The options your recipient has for receiving the money are bank deposits, airtime, mobile money, and cash pickup. You can find out which receiving options are available in your recipient's country here.
Exchange4Free Transfer Speed
Exchange4Free transfers usually take between 1-3 business days. Cash pickup transfers are normally available for collection within 24 hours of Exchange4free receiving your money.
Exchange4Free Fees and Exchange Rate
The main difference between Exchange4Free and other money transfer services is that there are no transfer fees. This applies to all amounts. Moreover, there is no commission.
Exchange4Free makes money from exchange rate. The forex margins on transfers (the amount that a bank or money transfer service adds on to the interbank exchange rate) usually starts from 0.25%.
[…] if you are sending GBP 100 from the United Kingdom to South Africa and your bank charges you GBP 30 as a transfer fee then this is costing you an extra 30%. Similarly, if an MSB (Money Service Business) charges you a GBP 10 fee then this fee alone is costing you an extra 10%.

Exchange4free offers a free money transfer service and we do not charge any fees on all amounts. In the above example, Exchange4free would save our clients between 10% and 30% on the transfer fee alone whilst still offering a fantastic exchange rate.
Is Exchage4Free Safe?
Yes, it is safe. The company is regulated by the Financial Conduct Authority in the UK. It is also regulated in EU, Canada, Australia, South Africa, Switzerland, Philippines, and Israel. Its platform is encrypted using an SSL certificate from Geo Trust. its system uses Verisign Trust Seal to ensure that it is 100% secure and malware free.
Where Can I Send Money in Africa With Exchange4Free?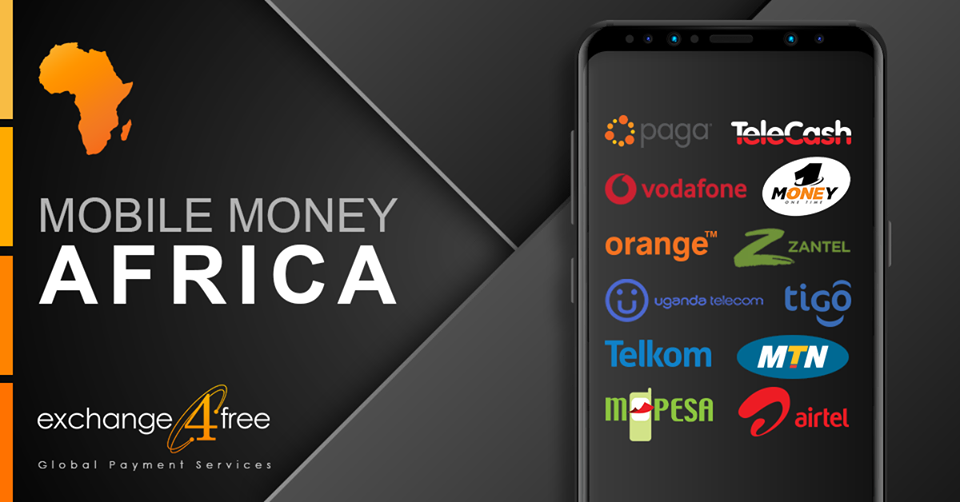 You can send from 40 countries, mostly European countries and Kenya and South Africa in Africa. You cannot send money from the United States.
The countries you can send money to in Africa are Angola, Botswana, Burkina Faso, Cameroon, the Democratic Republic of the Congo , Egypt, Ethiopia , The Gambia, Ghana, Guinea Guinea, Ivory Coast, Kenya, Lesotho, Madagascar, Malawi, Mali, Mauritius, Morocco, Mozambique, Namibia, Niger, Nigeria, Rwanda, Senegal, Sierra Leone, South Africa, Uganda, Western Sahara, Zambia, and Zimbabwe.
Exchange4Free Reviews
Exchange4Free has only 30 reviews on Trustpilot. Its average star rating from those reviews is 2.9/5. However, 40% of those who reviewed the service said it was bad while 33% said it was excellent and 40%. Common complaints include slow transfers, unfriendly customer service, and transfers not arriving to the recipient. Its Android app got 4.4/5 star rating from 11 reviews.
Conclusion
Sending money to your loved ones can be expensive because of transfer fees and markup on exchange rate. Luckily, with Exchange4Free you will be able to send money to Africa without paying any fees.
More Information About Exchange4Free