Sendcash.africa is a platform that enables people to send money to mobile money and local bank accounts in Nigeria using Bitcoin and other cryptocurrencies. You can also use it to send money from Nigeria to the US. The service was founded early 2020 by BuyCoins, a cryptocurrency trading platform in Nigeria. Sendcash has joined a growing number of fintech in Africa offering Bitcoin-based remittance services. One interesting Sendcash's feature is that your recipient doesn't need to know anything about Bitcoin. Once you successfully make your transfer, your recipient will get credited with their local currency within minutes.
The Problem Sendcash Is Solving
The illustration below shows the problem Sendcash is solving in the Bitcoin remittance market.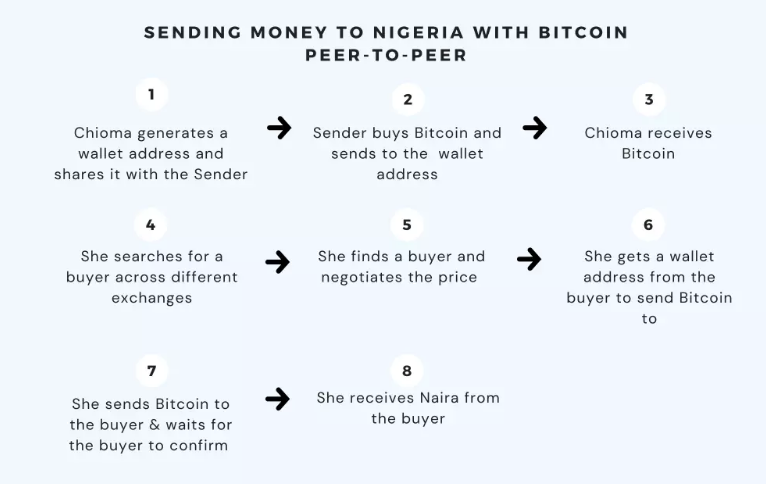 The second illustration shows how Sendcash is solving the problem depicted above.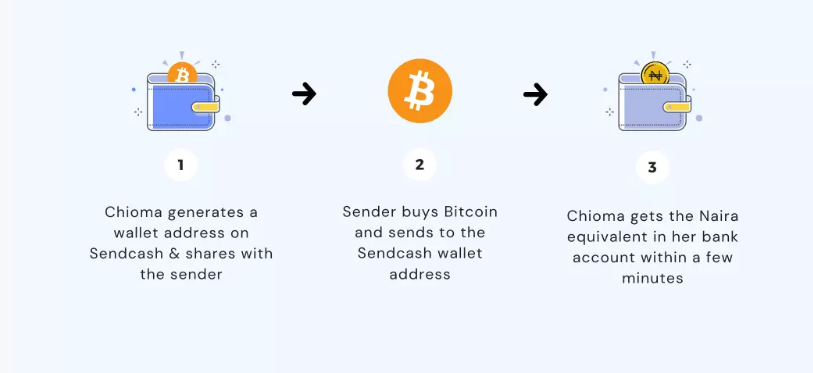 We're really excited about this because we believe that remittance is one of the biggest use cases for cryptocurrency because it has no geographical boundaries. This is another huge step towards fulfilling our mission of facilitating the borderless transfer of value across Africa.
How Sendcash Works
No sign-up is required to send money using Sendcash. You need to enter details of your beneficiaries. When entering these details, you will see a list of banks and mobile money services you can send money to. When you enter a bank account of your recipient in Nigeria, Sendcash assigns a unique Bitcoin wallet address to that account. You will then make your transfer by sending Bitcoin to that Bitcoin wallet address connected to your recipient's bank account.
Once your transaction is confirmed, Sendcash sells off the Bitcoin on BuyCoins trading platform and deposit the naira or cedi from the sale into the recipient's bank account through its payment partner Paystack and Flutterwave in Nigeria. The transaction usually takes 5 minutes or less.
The Central Bank of Nigeria issued a new remittance policy in November 2020 that allows beneficiaries of remittances in Nigeria to receive the funds in US dollars.
Payment Methods and Fees
To make payment on BuyCoins, you need to use bank transfer to buy NGNT, a stablecoin backed by naira held in bank accounts in Nigeria. You will then use NGNT to buy Bitcoin that you want to send. You can also buy Bitcoin from other crypto trading platforms such as Coinbase and Cash App. You are also able to buy USDC with your bank card or Apple Pay through Wyre app integration on Sendcash website. USDC is a stablecoin pegged to the US dollar.
Sendcash does not charge any fees for processing remittances on its platform. However, you may be charged fees from the crypto exchange you use to buy and send Bitcoin to Sendcash.
When the authorities in Nigeria restricted bank account of the Feminist Coalition, one of the groups that led #EndSars protests, the non-profit used Sendcash to receive donations sent via Bitcoin into their bank account.
How to Receive Sendcash Transfers
In Nigeria, your recipient can only receive funds into their bank account. Zenith Bank, EcoBank, First Bank of Nigeria, Fidelity Bank, Access Bank, Wema Bank, Standard Chartered Bank, etc., are some of the banks you can send money to using Sendcash.
Transfer Limits
Sendcash allows you to send up to $2,500 daily. The minimum amount is $25. However, you can increase your daily limits by contacting them and provide identity documents to meet KYC requirements. If you send Bitcoin equivalent below or above limits, your transaction would not be processed. You will need to contact Sendcash so they can credit your account with the Bitcoin amount you sent. You need to have a BuyCoins account to receive your refund.
More Information