Nigeria is one of the biggest receivers of remittance money from abroad. According to a report by PwC, more than 15.24 million Nigerians live abroad.
These people sent more than $23.63 billion back home in 2018, up from the $22 billion in 2017. These funds represented more than 6.1% of the country's GDP. In this article, we will look at how to send money to Nigeria using TransferWise.
Can I receive money through Transferwise in Nigeria? Wise, formerly Transferwise, will suspend all USD money transfer services to Nigeria effective from November 1st, 2022, until further notice. The company says sending money to Nigeria has not been as fast or reliable as they would like to.
What is TransferWise?
Started in 2010 in the United Kingdom, TransferWise has grown to become one of the fastest-growing money transfer companies in the world. It has raised more than $1.1 billion from investors and is now valued at more than $5 billion. This makes it the third-biggest fintech startups in Europe after Adyen, Nexi, and Klarna.
TransferWise makes it easy, faster, and cheaper for people to send money abroad. It does this by creating a transparent mechanism to send money and ensuring that the recipient receives money within the shortest time possible.
TransferWise also ensures that recipients get the exchange rate that you see when you look on Google. Most money transfer companies make money from the exchange rate differential. For example, as shown below, 1 US dollar equals to 386.59 Nigerian naira. Most companies, including banks, don't use this rate. Instead, they use a rate that favors them.
TransferWise has also broadened its service portfolio. For example, it launched the Borderless account a few years ago. This is a product that enables people to save money across several currencies like the euro, pound and the US dollar. And recently, the company received an investment license, which means that it will start providing investing services.
Why Send Money to Nigeria Using TransferWise
There are several reasons why you might want to send money to Nigeria. Among these reasons are:
Family and friends. You might want to support your family back home.
Business purposes. You might have a business in Nigeria that you want to support.
Donations. You might be supporting a Nigerian charity organisation.
Freelancers. You might have a Nigerian freelancer that you want to pay.
Buying stuff. You might want to buy something from Nigeria and pay using TransferWise
One reason why millions of people use TransferWise is because of how simple it is to use it. Indeed, if you are a new customer, it takes you less than 30 minutes to create an account and then send the funds.
Create a TransferWise Account
The first step to send money to Nigeria using TransferWise is to create an account. This is a simple process that requires you to enter your email address and password. You can also use Google and Facebook to create the account.
Request the Recipients' Payment Preference
You can do this step at this time or before you create the account. Ideally, you need to have the recipient's bank account. In this, ensure that you have their name, bank name, account number, phone number, email address, and the bank's Swift code.
Enter the Amount as Shown Below
You should then enter the amount of money that you are sending as shown below. You will see the exact amount the recipient will receive and the fees the company will charge you.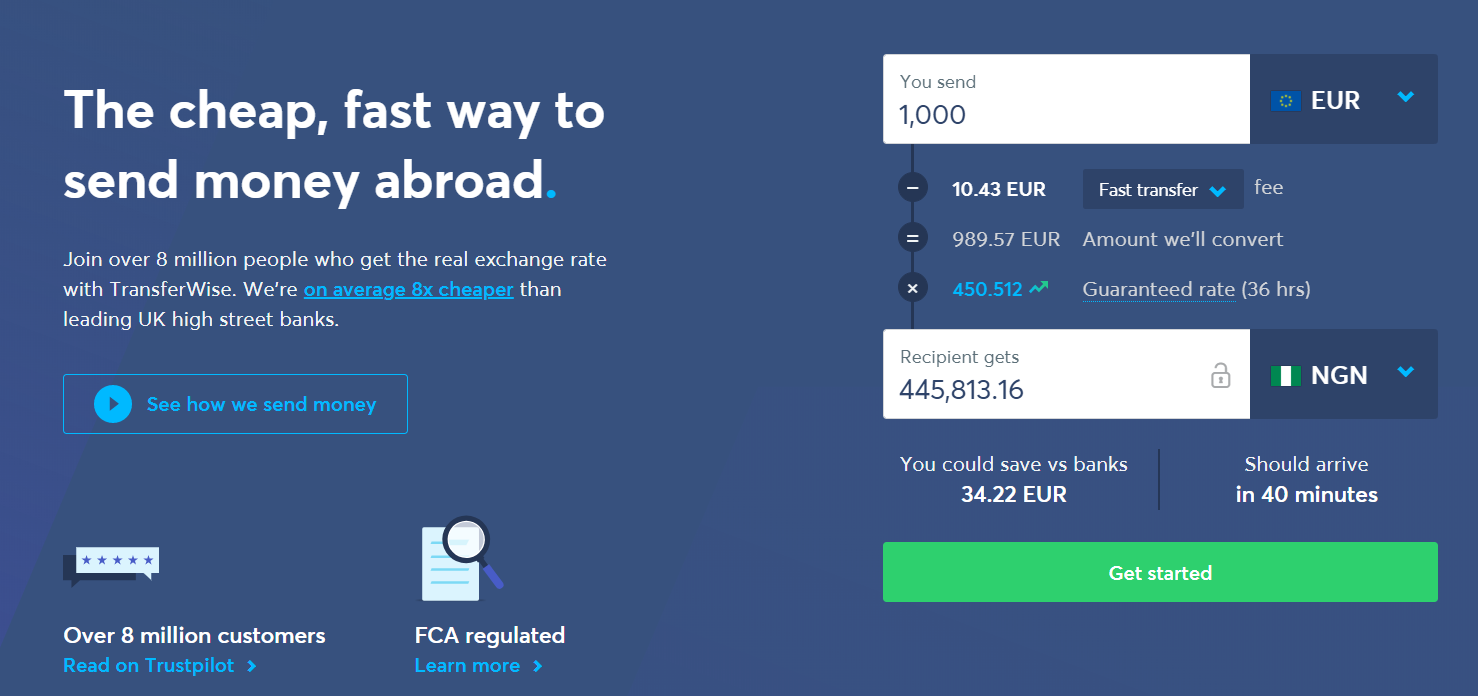 On the fees, there are three options. There is the fast transfer, where you send the money from your debit or credit card. This is usually a bit expensive. There is also the low cost transfer, where you send the money from your bank account and the easy transfer, where you send funds from your bank with an online payment.
Fill in Your Details
If you are a new TransferWise customer, you will need to enter a few details about yourself. This is a necessary thing because of compliance reasons.
After you do this, select the type of transfer you want to make and leave the rest to TransferWise. The company will process the funds and deposit them to the recipient's account. They will also notify them about the transaction via email or mobile phone.
Fees for Sending Money to Nigeria Using TransferWise
As mentioned above, TransferWise is among the cheapest money transfer methods today. This, together with transparency, are the company's claim to fame. TransferWise has three main payment options that depend on the mode of transfer you are using. If you are using the Fast Transfer, the company will charge you a variable fee of 0.67% of the amount you are sending. If you are using the advanced and low cost transfer, it charges you a 0.37% variable fee. In addition to this, the company charges a £0.26 fixed fee. Therefore, if you are sending £1,000 to Nigeria using the fast transfer, your total fee for the transaction is just £6.92.
Benefits of Sending Money to Nigeria Using TransferWise
There are several benefits you get by sending money to Nigeria using TransferWise. Some of these benefits are:
It is a safe option. TransferWise is a safe option that is used by more than 8 million people worldwide.
It is a faster option. Recipients receive their funds within less than one hour making it one of the fastest option.
No receiving fees. Unlike other payment options, recipients receive all the funds.
Transparent. Using TransferWise is very transparent since you see all the fees before you send the funds. There are no hidden fees.
Multiple currencies. TransferWise accepts tens of currencies, including the US dollar, euro, and pound.
Business and personal. You can send money to both individuals and businesses in Nigeria.
Top TransferWise Alternatives
There are other options you can use to send money to Nigeria. Some of the top alternatives to TransferWise are WorldRemit, PayPal, bank transfer, Western Union, and MoneyGram among others.
Final Thoughts on Sending Money to Nigeria With Transferwise
TransferWise is among the best platforms to send money to Nigeria. The company has minimal fees, is fast, and is simple to use. It is also widely accepted among all Nigerian banks and mobile money platforms. It is also an incredibly safe option to use.