Sending money through Bitcoin is expected to transform the international money transfer industry through low/zero fees and fastest transfers. According to the World Bank, sending money to Africa is more expensive than other regions in the world. In this article, we will show you how to send fiat money to your loved ones in Africa using Bitcoin.
What is Bitcoin?
Bitcoin is a cryptocurrency invented in 2008 by an unknown person or group of people using the name Satoshi Nakamoto. Unlike fiat money, Bitcoin uses peer-to-peer technology with no central authority such as a central bank. Bitcoin can be bought or sold. Before you use Bitcoin to send money to your relatives or friends in Africa, you first need to buy it.
What You Need to Buy Bitcoin
Bitcoin is a virtual currency. Therefore, you need a Bitcoin wallet to store it. A Bitcoin wallet is simply a software that stores Bitcoins. There are different types of Bitcoin wallets such as mobile wallets, desktop wallets, web-based wallets, paper wallets, and hardware wallets. Each has its own benefits and risks. A Bitcoin wallets has an address and a private key. If you lose your private key, you will no longer be able to access your Bitcoin wallet. Some of the best Bitcoin wallets you can use are Mycelium, Exodus, Coinbase, and Edge.
You can buy Bitcoin with fiat money (Euro, USD, GBP, etc), bank transfer, and credit/debit card. You can also use other cryptocurrencies such as Ethereum, Tether, Bitcoin Cash, and Binance Coin to buy Bitcoin for your transfers.
Where to Buy Bitcoin
Before buying Bitcoin, you should find out the exchange rate. For instance, at the time of writing this article 1 Bitcoin equaled 23,100.30 US dollars. Bitcoin has a much higher degree of practical divisibility than fiat money. This makes it possible for it to be used for micro payments. The smallest unit of Bitcoin, called Satoshi, is 0.00000001.
These are the platforms where you can buy Bitcoin:
Cryptocurrency exchanges. The exchanges facilitate the trading of Bitcoin with other cryptocurrencies or fiat money. Best Bitcoin exchange include Coinmama, Bisq, and Binance.
Peer-to-Peer exchanges. These exchanges connect buyers and sellers. Best P2P exchanges include Paxful and Remitano.
BATMs. Bitcoin ATMs allow customers to buy Bitcoin from a machine. The BATMs are connected to the Bitcoin network and allow customers to purchase Bitcoin with cash. To buy Bitcoin from the machine, you need to scan a QR code, which will transfer the purchased Bitcoins to your wallet. There are over 7,000 BATMs in over 75 countries. You can find Bitcoin ATMs locations by country here.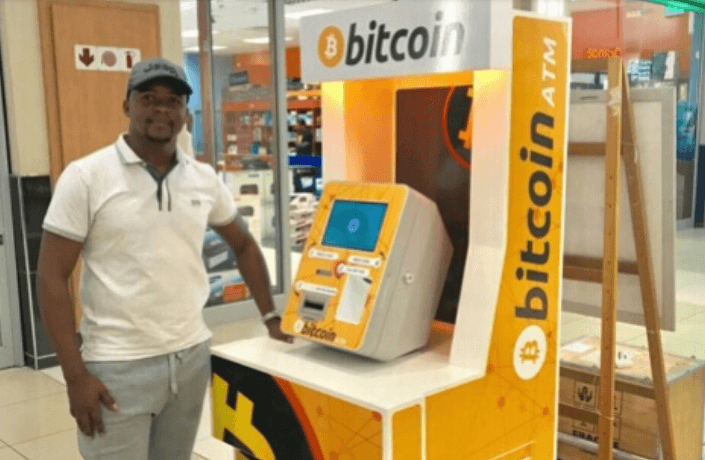 How to Send Money Using Bitcoin
Once you have Bitcoin in your wallet, you are ready to make a Bitcoin-based money transfer to your beneficiary in Africa. Your choice of a platform to use to send the funds depends on how you want your recipient to receive the funds. You can choose a platform that allows them to receive Bitcoin or fiat money in local currency in their bank account, mobile money wallet or even cash.
Platforms that allow you to send money through BTC to Africa include:
BitPesa
BitPesa is a Nairobi-based fintech founded in 2013. Users send Bitcoin, which BitPesa converts into the local currency of the beneficiary. Your recipient can receive the money via a bank account, or mobile money such as M-Pesa, Airtel Money, Orange Money, etc. Beneficiaries don't need to know anything about Bitcoin. BitPesa charges 3% remittance fee regardless of the amount being sent.
With BitPesa, you can send money from all over the world to the following countries in Africa: Kenya, Ghana, Morocco, Nigeria, Uganda, Tanzania, Democratic Republic of the Congo, and Senegal.
Paychant
Paychant is a crypto remittance service founded in 2019. At the moment, you can use Bitcoin to send Naira to your family or friend in Nigeria. Other African countries to follow before the end of the year are Kenya, Ghana, and South Africa.
Making transfers with Paychant is very simple. In fact, you don't even need to sign up. You only need to choose the amount to send, provide your recipient's bank details and pay for your transfer with Bitcoin. Your recipient will receive Naira into their bank account. Paychant supports all major banks in Nigeria such as UBA, Access Bank, Zenith Bank, GTBank, First Bank of Nigeria, and First City Monument Bank. Cash pick and airtime top-up will also be available soon.
If you send Bitcoin worth $200 to Nigeria, Paychant will only charge you $1.06 in fees.
Bitsika
Launched in 2019, Bitsika offers Bitcoin-based money transfers to African countries. Your recipient needs to have Bitsika app, which is free to download on Google Play Store or Apple Store. You will therefore send money to their username and they will receive the money in less than 5 minutes. Afterward, they can withdraw the money from the app in the local currency to their bank accounts or mobile money.
There are no any fees for using Bitsika if you are sending up to $300. However, there will be a small fee after you cross the threshold.
Supported countries in Africa are Cameroon, Ghana, Gabon, Ivory Coast, Mali, Mauritius, Nigeria, and Senegal.
Cryptofully
Cryptofully is a fintech startup that allows you send money to any Nigerian bank account using bitcoin. You are able to use Cryptofully on the web or you can download its Android app. With this platform, you can send money to Nigeria from all over the world. Your loved ones will receive fiat money in their Nigerian bank accounts. You can also buy airtime or pay bills for your loved ones on Cryptofully.
Luckily, Cryptofully does not attract any fees and uses real time exchange rates. However, there's a $5000 daily limit to comply with Central Bank of Nigeria (CBN) anti-money laundering policies. You can increase your daily limit by completing the KYC verification process.
Cryptofully website is currently experiencing technical problems. When we contacted the company, their response was this: "We advise that you please login to your account on the Africhange website at www.africhange.com/login to perform all your transactions."
Tempo Mobile Money Transfer
Tempo Mobile Money Transfer is a French fintech that allows users to use cryptocurrencies such as Bitcoin to send money in local currency to Africa.
Tempo uses Stellar, an open source network for digital currency to fiat money transfers, to enable users to send money using Bitcoin. During the payment process, where you need to select your country, you will choose "crypto" as your country if you are not EU resident. Your recipient can receive money into their bank account or at a pick up cash location depending on the destination.
Tempo has no hidden fees. Its fees are determined by factors such as method of receiving, payment method, etc. Your first transfer with Tempo is free.
Using Tempo, you can send money to Benin, Cameroon, Comoros, Congo-Brazzaville, Gambia, Ivory Coast, Mali, Morocco, Nigeria, Senegal, and Togo.
Bitlipa
Bitlipa is a platform designed to enable individuals and businesses to send money through bitcoin in a convenient way.
Conclusion
Remittances are a huge source of foreign capital in Africa, surpassing Western aid. In 2019 alone, Nigeria received remittances worth $23.8 billion, followed by Ghana at $3.5 billion and Kenya at $2.8 billion. However, Africa loses billions in transfer fees every year. Sending money via BTC is not only cheaper, but they are also faster. Cost and speed are the main considerations for migrants sending money back home.