Remitly is a money transfer platform available in 13 African countries. Sending money to these countries is simple and conveniently done online. Your recipient can receive money instantly in their bank accounts, mobile money wallet or pick up cash from a local agent.
You can send money to Africa with Remitly from a number of countries including Australia Austria, Belgium, Canada, Finland, France, Germany, Ireland, Italy, Netherlands, Singapore, Spain, UK, US, Denmark, Norway and Sweden.
If you send at least $100 to a supported African country, your recipient will get an extra $15.00 from Remitly.
How Remitly Works
You have the option of sending money online using Remitly website or by dowloading Remitly app for Android or iOs and register. Once you have registered, you need to specify how much money you would like to send and how fast you want your recipient to receive it. The next step will require you to fill out details of the recipient and yourself. Finally, you need to confirm that all the details are accurate before sending. It's that simple.
Remitly Verification
For fraud prevention, Remitly may ask you to verify your identity by providing additional information or documents. This can happen when sending money or making transfer limit requests. Documents needed for verification vary depending on the country you are sending from. To know what documents you need, select the country you are sending from on this list.
How to Check for Status of Your Remitly Transfer
Once you have successfully sent the money, you are able to check the status of the transfer. You need to log into Remitly app where you will see a list of your transfers. Alternatively, you can log into your account via the website and select Transfer History from the menu. You transfer status will show.
Remitly Transfer Status Details
There are several transfer status details, see the information below to be sure what each transfer status detail means.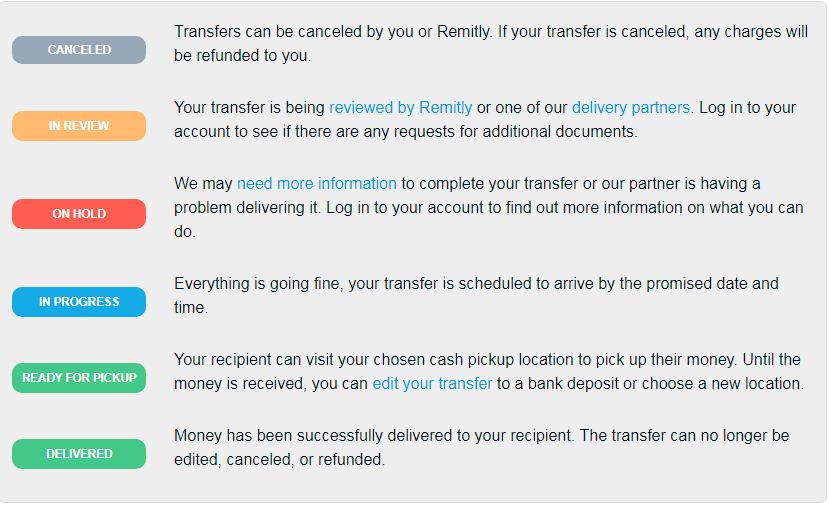 Remitly Transfer Plans
Remitly allows you to choose a plan that suits the delivery time and payment method of your choice. For instance, if the money is needed urgently, you can choose a plan for an instant transfer. Available plans are Express and Economy.
With Express plan, your money arrives in minutes for a small fee. However, the only way to pay for your transfer with Express plan is debit or credit card. Economy plan has the lowest fee but it is slower. The money arrives within 3-5 business days. Payment method for this plan is only a bank transfer.
Remitly Transfer Limits
Remitly has transfer limits. The amount you are allowed to send is determined by where you are sending from and to. Remilty has three sending tiers, which limit the amount you can send in a specific period of time. Each tier requires specific set of verification information as shown in the table below. However, you are able to request a limit increase. You may be asked to provide more information such as the source of your money to qualify for a limit increase.
Some countries limit the amount your recipient can receive above and beyond your sending tier. In these cases, limits may apply to all transfers regardless of the source.
Breakdown of Remitly Transfer Limits
| | Tier 1 | Tier 2 | Tier 3 |
| --- | --- | --- | --- |
| 24 Hours | $2,999 | $6,000 | $10,000 |
| 30 Days | $10,000 | $20,000 | $30,000 |
| 180 Days | $18,000 | $36,000 | $60,000 |
| | Information Needed | Information Needed | Information Needed |
| | Your full name, your residential address, your date of birth, and the last 4 digits of your SSN | Tier 1 information if not already approved, your full SSN/ITINYour government issued photo ID, and aditional information about your use of our service including details of your source of funds | Tier 2 information if not already approved, and additional information on your use of our service |
How Much Does It Cost to Send Money With Remitly?
Remitly does not have a fixed transfer fees. Your first transfer is free. Generally, the fees differ based on how much you send and the transfer plan you have selected. For example, Express plan is faster so it attracts higher fee, while Economy is slower but the fees are lower. When you start to make your transfer, Remitly will show you the exchange rate at that moment. That is the actual exchange rate you will pay.
Remitly Discounts and Non-Remitly Fees
Remitly offers promotional rates and referral bonuses regularly. Promotional rates are for new customers such as fee-free first transfer. If you refer a friend and they send money using Remitly service, you will be eligible for a referral bonus on your next transfer.
Apart from Remitly fees, you may be charged additional fees by your bank or your credit card company.
Where Can I Send Money With Remitly?
Remitly supports money transfers from 16 countries to 13 countries in Africa. Countries where you can send money from are Australia, Austria, Belgium, Canada, Denmark, Finland, France, Germany, Ireland, Italy, Netherlands, Norway, Singapore, Spain, Sweden, United Kingdom, and United States. African countries where you can send money to are Cameroon, Egypt, Eritrea, Ethiopia, Ghana, Ivory Coast, Kenya, Liberia, Namibia, Mauritania, Morocco, Nigeria, Rwanda, Senegal, South Africa, Tanzania, Uganda, The Democratic Republic of Congo, and Western Sahara.
Remitly Customer Support and Languages
Customer support is available in English, French, and Spanish. Live support via chat is available 24/7 while phone support is available only in English and Spanish from 3:00 a.m. to 7:00 p.m. PT.
Is Remitly Safe?
Remitly is a genuine company authorised by the Financial Conduct Authority (FCA). It is also verified by MasterCard and Visa. To protect your data, the company uses Secure Socket Layer (SSL) with 256-bit encryption, which is the recognised industry standard in secure server protection. In addition, it applies biometric security.
Remitly Reviews
Over 27,000 Remilty customers have submitted reviews on the leading review platrom, Trustpilot. The company has a score of 4.5/5 from those reviews. While 84% of customers were satisfied with Remitly service, 7% rated the service as bad. Remitly is one of the top 10 rated money transfer services on Trustpilot.
More Information About Remitly