Azimo, the British money transfer company, has stopped money transfer services to naira bank accounts and cash pickup in Nigeria. Up until recently, Azimo was one of the popular money transfer services to Nigeria.
Azimo stopped supporting money transfers via Azimo or Azimo Business on August 31, 2022, following its acquisition by Papaya Global. The company is now focusing on providing salary payments to business customers.
A notice on the company's website says:
Why can't I transfer to a Naira bank account?
Central Bank of Nigeria rules mean that payments can only arrive with recipients in USD. As soon as the situation changes, we'll let you know by email.
We we tried to make a transfer to Nigeria on the website, we could only do it via SWIFT and there were only two currencies available as the screenshot below shows.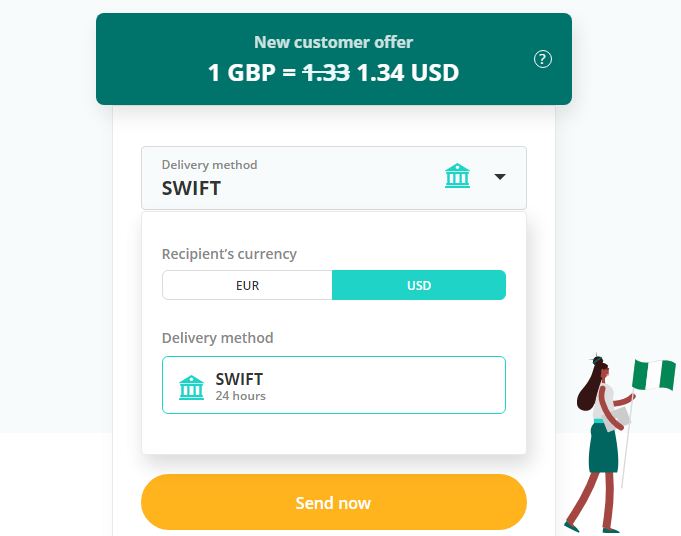 Before this change, Nigerians abroad could use Azimo to send US dollars, euro, or pound to naira bank accounts. In November 2020, the Central Bank of Nigeria issued a new remittance directive that allowed recipients of money transfers in Nigeria to receive their money in US dollars.
Disclaimers Against Azimo Money Transfer to Nigeria
Last year, five Nigerian banks and the Central Bank of Nigeria issued disclaimers against Azimo and Transferwise.
The Central Bank disclaimer stated:
The attention of the Central Bank of Nigeria (CBN) has been drawn to the activities of Messrs. Azimo and Messrs. Transfer Wise, both of which are purportedly transacting business, albeit unauthorised, as International Money Transfer Operators (IMTOs). The Bank wishes to notify the general public that neither Messrs. Azimo nor Messrs. Transfer Wise is licensed by the Central Bank of Nigeria to operate as an International Money Transfer Operator (IMTO).
First Bank, one of the five banks to warn the public against using Azimo, said:
We disclaim the listing of FirstBank as one of the receiving or paying Banks on Azimo.com by Azimo Limited, offering Global Money Transfer Services. FirstBank has no affiliation with Azimo and hereby publicly disassociates itself from it.Azimo is not a registered Money Transfer Service with the Central Bank of Nigeria (CBN) as such, not licensed in Nigeria. Anyone who transacts with Azimo is therefore doing so at his/her peril.
Can I Still Make Money Transfer to US Dollar or Euro Accounts in Ngeria?
Azimo website says you can still make money transfer to USD and EUR bank accounts in Nigeria. The statement on its website reads:
You can still send money to USD or EUR bank accounts in Nigeria by choosing the SWIFT delivery method on the Azimo website or app.
Mobile top-up transfers are also available as usual. With mobile top-up you can add credit to your recipient's local mobile number.
The statement further says:
Central Bank of Nigeria rules mean that your recipient's account must be held in USD or EUR. We're also not able to process For Further Credit (FFC) payments.
If either of these requirements are not met, the receiving bank will usually reject the transfer and return the money to Azimo. This process can take up to four weeks, so it's important the recipient's account matches your sending currency (USD/EUR).
Best Money Transfers to Nigeria
Some of the best alternatives for sending money to Nigeria to your relatives and family members include WorldRemit, Xoom, Remitly, and Exchange4Free. You can also use crypto-based remittances startups such as Cryptofully, Bitsika, and BitPesa. Alternatively, you can transfer the money via Bitcoin to Nigeria without any external services.