Tempo Mobile Money Transfer is a French-registered service that facilitates money transfers, including crypto remittances, to nine Africa countries.
Advantages of Using Tempo Money Transfer to Africa
With cash pick-up, money is available on the same day
You can send money using cryptocurrencies such as Lumens (XLM), Bitcoin, and Ethereum
In addition to other payment methods, you can also make in-person payments at Tempo stores in Europe
Disadvantages of Using Tempo Money Transfer to Africa
Tempo services are limited to only 9 West African countries
You can only send money from Europe unless your payment method is cryptocurrency
The service has an Android app but there's no iOS app available yet
How Tempo Money Transfer Works
To send money you need to register using the website or Android app.
For registration, you will be required to provide your personal details such as your name, address, bank details, etc. You will then need to choose where you want to send the money to, which includes providing details of your recipient as well as the amount. Alternatively, you can send money by visiting Tempo stores in Europe.
For identity verification, you will need to provide a scan of a valid ID that clearly shows your personal details, expiration date, and the full machine readable zone. Accepted documents for verification include utility bill, phone bill (mobile phone bills are not accepted), council tax, and bank or credit card statement (not older than three months). Document from a local authority must be issued within the last 12 months. Driver's license is not accepted
How Can I Pay for Tempo Money Transfer?
There are three traditional methods of paying for your transfer. You can make in-person payments at Tempo stores located in France and Germany or you can pay via debit/credit card, and bank transfer.
Additionally, you can use Tempo to send money using cryptocurrencies. You pay with cryptocurrencies then your recipient receive fiat money in their local currency. For crypto transfers, you can use Lumens (XLM), BTC, and ETH. Although you cannot send money from countries such as the US using traditional payment methods, you can use crypto transfers to send money to Africa from the US. During the payment process, where you need to select your country, you will choose "crypto" as your country. For more information regarding crypto transfers go here.
How Will My Recipient Receive the Money From Tempo Money Transfer?
Your recipient can receive money into their bank account or pick up cash from Tempo partners in the supported countries.
What Are Tempo Money Transfer Limits?
There are transfer limits when using Tempo to send money to Africa. The 30 day limit is €5,000, 90 day limit is €8,000, and the yearly limit is €20,000.
How Fast is Tempo Money Transfer?
Money transfer with Tempo usually takes between 15 minutes to 4 working days. The actual time depends on the payment method you are using to fund your transfer, receiving method and the country of your recipient. For example, cash pick up is on the same day while bank transfer may take between 1 to 4 days.
If your transfer is delayed for compliance or regulations-related reasons, it may be put on hold until you have sent us more information about the transfer. Please keep in mind that we are required by law to perform these checks, although we try to speed them up as much as possible.
In 2018, Tempo Money Transfer
announced
a partnership with Flutterwave to offer easy, fast and secure blockchain payments using Stellar to Nigeria. Tempo is leveraging Stellar's blockchain technology to make remittances easy, fast, and affordable. Flutterwave's extensive network infrastructure enables Tempo's EU customers to send funds into any verified Nigerian bank account within seconds.
How Much Is Tempo Money Transfer Fees?
First transfer with Tempo is free. Tempo is transparent about its fees. Its fees are determined by factors such as method of receiving, payment method, etc. For instance, if you send 200 Euro to Nigeria from Belgium, your fee will be € 5.5. When paying for your transfer using a credit/debit card, your provider may charge additional fees on top of what Tempo charges.
Tempo Money Transfer Supported Countries and Languages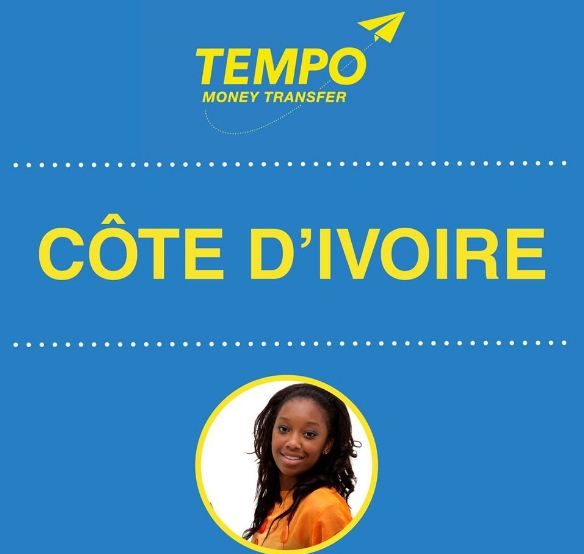 Tempo allows you to send money to the following African countries: Benin, Cameroon, Comoros, Congo-Brazzaville, The Gambia, Ivory Coast, Mali, Morocco, Nigeria, Senegal, Togo, and Western Sahara. Tempo customer service and online chat are available in 12 languages including English, German and French.
Is Tempo Safe and Secure?
Tempo is a safe and secure international money transfer service. It is licensed by the French Regulator ACPR and Bank of France. It is also a member of International Association of Money Transfer Networks. In addition, it has European Payment Service directive licenses.
To secure your data, Tempo has security and fraud prevention team and uses encrypted servers. It works with trusted banking partners for transferring money and keeps customer money separate from operational funds. The compay has a 100% money-back guarantee. If you are not satisfied with their services, Tempo will refund 100% of the fee paid.
Tempo Reviews
Tempo reviews on Google Play has a rating of 4/5 from 50 reviews. However, the company does not a page on leading customer review sites such as Trustpilot.
Final Thoughts About Tempo Money Transfer to African Countries
One of the attractive features of Tempo money transfer to African countries is the fact that the first transfer with is free. You will have to pay for the following transfers. However, Tempo is transparent about its fees.
More Information About Tempo Money Transfer