Remittances are important sources of revenue for South Sudan, the world's youngest country. According to the World Bank, remittances to the country have jumped to more than $1.3 billion. They represent about 34% of the total GDP, which is the highest in the region. In contrast, Kenya, a bigger country, receives more than $2.4 billion. In this article, we will show you how to send money to South Sudan.
Challenges of sending money to South Sudan
Does PayPal work in South Sudan?
As of March 2023, PayPal does not currently support sending or receiving payments in South Sudan. However, PayPal has been expanding its services to more countries in recent years, so it's possible that this could change in the future.
South Sudan is a relatively new country with a population of more than 10 million and a GDP of more than $10 billion. The country is also known for its political tensions that have happened for years. As a result, countries like the United States and Canada have placed some sanctions in the country.
This makes it relatively difficult to send money to South Sudan. For example, it is impossible to send money to South Sudan using TransferWise, WorldRemit, PayPal, Xoom, and even Remitly. Still, you have some options to use when you want to send money to South Sudan.
Western Union Money South Sudan
Western Union is among the best options you have when you want to send money to South Sudan. Western Union in South Sudan works with partnering institutions, including banks in South Sudan, to enable people to access their funds. Unlike in most other countries, the recipient cannot receive the funds direct to their bank accounts.
For transfers via Western Union to South Sudan, you just need to visit your local branch in your country and enter the details of the recipient. You can also use Western Union's digital platforms to send the funds online. After you complete the transaction, the customer can access the funds right away from the agent. The screenshot below shows the amount the customer will receive when you send $1,000. Your fee will be 7 USD.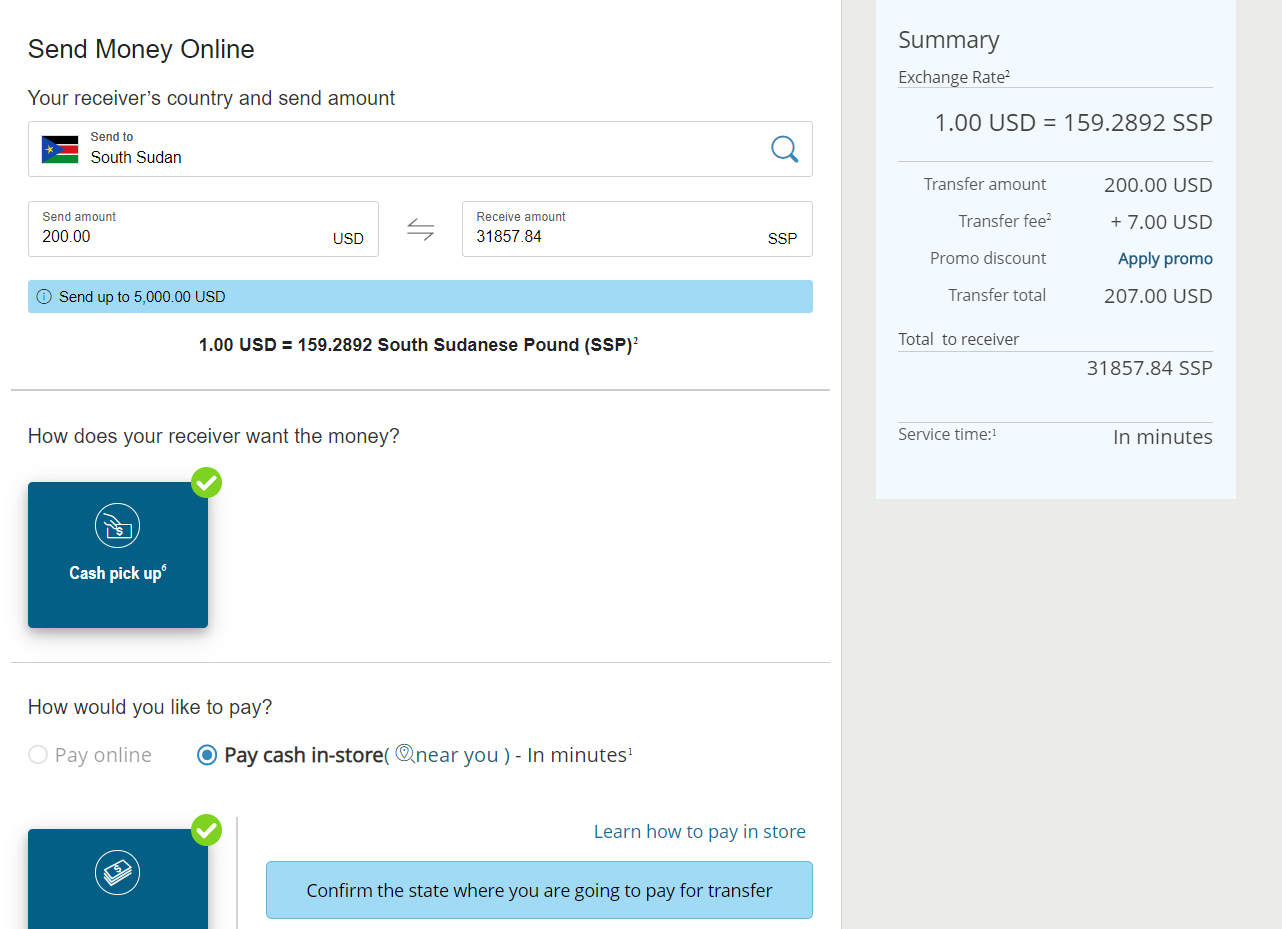 MoneyGram Money South Sudan
MoneyGram is also another option that you have when you want to send money to South Sudan. Moneygram in South Sudan option works similar to how Western Union works. You go to a MoneyGram agent or use the digital platform, initiate the payment process, and then send the funds. The recipient will then receive the funds from a local agent. Most of MoneyGram's agents in South Sudan are local branches. The screenshot below shows the amount the recipient will receive when you send $1,000 and the fees depending on your payment method.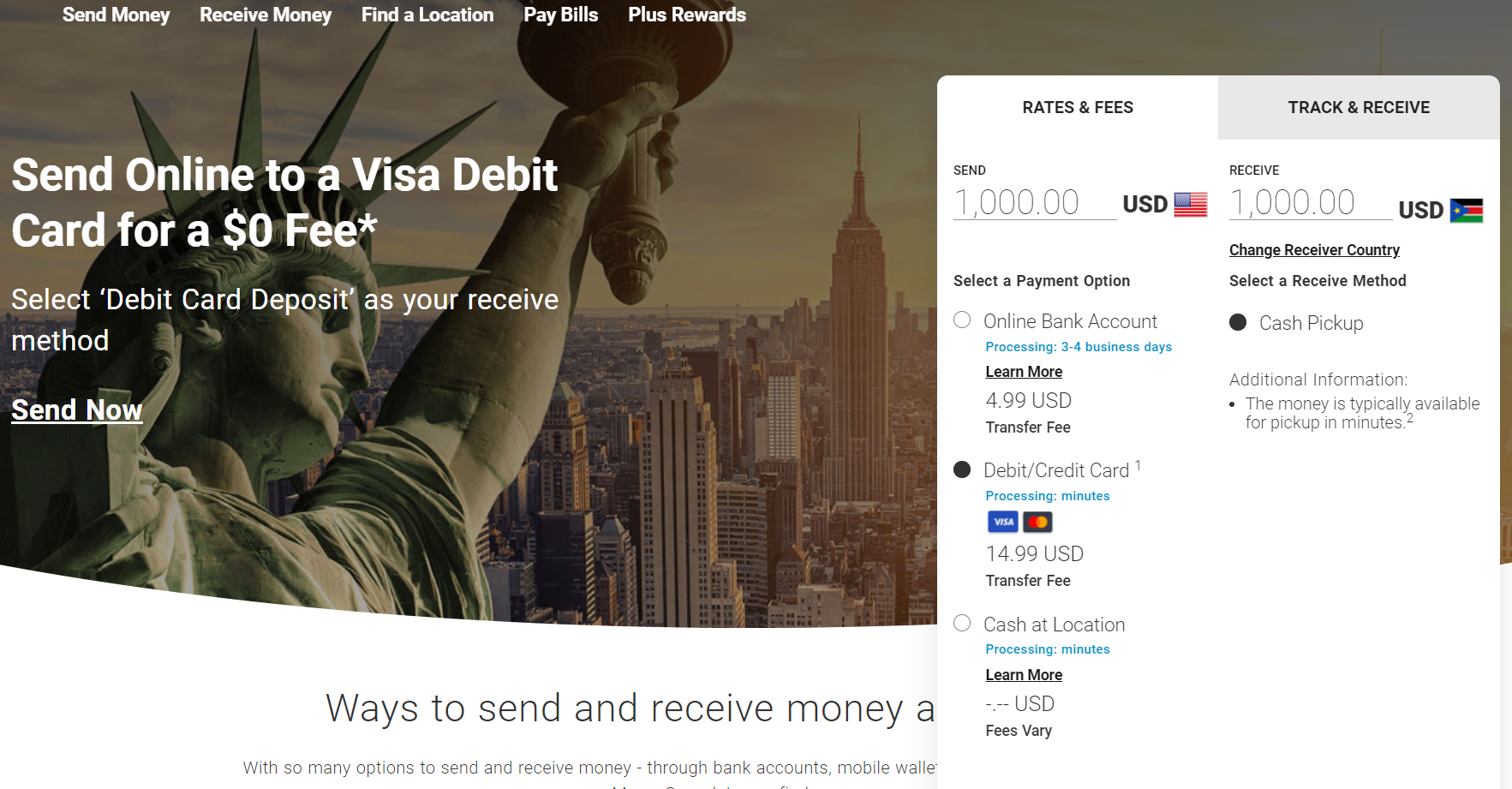 Small World Money Transfer to South Sudan
Small World is a money transfer company that was started 13 years ago. The company has more tha 250,000 pick-up locations and more than 800 employees. It is one of the companies that you can use to send money to South Sudan. You do this by visiting the website, entering the origin country, and the country you are sending the money to. After this, you will enter the details of the recipient. This could be a cash pick-up or a direct bank deposit. After that, you will simply complete the transaction by entering your details and the recipient can receive their funds.
Bank Transfer to South Sudan
Another popular way to send money to South Sudan is to South Sudan is through bank transfer. This is a process in which you directly send funds from your bank account to the recipient's bank in South Sudan. You can do a bank transfer by going to your local bank and then initiating the process. Alternatively, you can use the bank's online bank platform to send the money.
To complete a transaction, you need to have the recipient's bank account number, account name, and the bank's swift code. For starters, Swift is a telecommunication network that banks use around the world. Once you have all these details, you will fill them and the bank will conduct the transaction.
While South Sudan is a small country, it has many banking institutions, including Equity Bank, Co-Operative Bank, and Stanbic Bank.
Final Thoughts on How to Send Money to South Sudan
Sending money to South Sudan is relatively difficult compared to other countries like Kenya, Nigeria, South Africa, and Uganda. That is because many transfer companies have not yet created local networks to enable these transactions. For example, PayPal has not made any partnership with South Sudanese financial companies like banks and mobile money firms. Still, you can use the options we have mentioned in this article to send money to the country.
All money transfer services to South Sudan
[pt_view id="4a3e85492q"]