Remittances are an important component of the Nigerian economy. The latest numbers show that remittances alone account to more than 6% of the country's GDP, which is a substantial figure. While the amount is set to fall because of the pandemic, the overall trend remains positive. Therefore, in this artice, we will look at some of the cheapest ways to send money to Nigeria.
Wire transfer to Nigeria
Wire transfer is the process of sending money direct from your bank to the recipient's bank account. This process is relatively simple and usually avoids intermediary companies. Instead, your bank receives the instructions to send money and then communicates with the recipient bank. These banks are linked using the Society for Worldwide Interbank Financial Telecommunication (SWIFT) network.
There are several benefits for sending money to Nigeria using wire transfer. First, the whole process is relatively simple. For most banks, you don't need to visit a physical branch. Instead, you can use the digital platform to send the funds. Second, the total cost of the transfer is usually relatively small. If you are sending $1,000, your total cost may be less than $20. Third, the process has become relatively faster these days. On average, it takes less than 2 days for the funds to reflect in the recipient's account.
TransferWise Money Transfer to Nigeria
Wise will suspend all USD money transfer services to Nigeria effective from November 1st, 2022, until further notice. The company says sending money to Nigeria has not been as fast or reliable as they would like to.
TransferWise, now called Wise, is a relatively new money transfer company that has recently reached a $5 billion valuation. The company is well-known for removing the barriers to international transfers. It does this by creating transparency and ensuring that customers get their funds at the fastest time possible.
TransferWise achieves this by having local bank accounts in Nigeria and in most countries. Therefore, when you send money, the company receives the funds and then uses its local funds to send it to the client. By so doing, it makes the process faster and cheaper.
Most importantly, it ensures that the customer gets the real exchange rate, which is an important thing. Let's do the math. One US dollar equals to 386 Nigerian naira. So, if you send $1,000, the customer will receive 386,000 naira. But, if a bank puts the rate at 380, it means that the customer will get 380,000; a substantial difference.
TransferWise is extremely cheap. For example, sending $1,000 to Nigeria costs just £10.85. There is a small fixed rate and a small variable rate.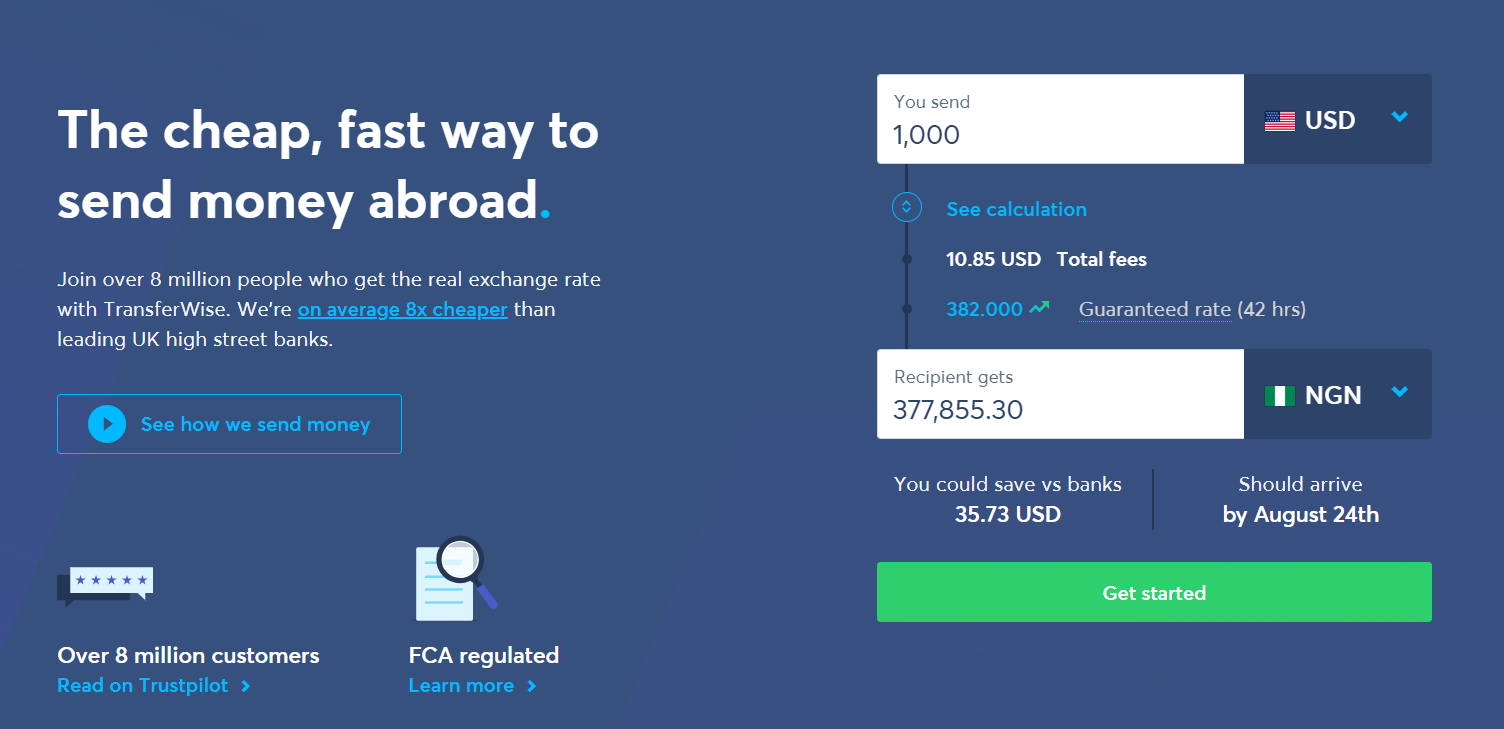 WorldRemit Money Transfer to Nigeria
Started in 2010 and headquartered in London, WorldRemit is among the fastest growing money transfer company in the world. It has more than 3 million users and more than $1 billion in valuation. The company operates in a similar model to TransferWise. However, it has other payment options.
Send money with WorldRemit using the code 3FREE and pay no fees on your first three money transfers.You will also receive a discount voucher for use in your next transaction when you refer a friend via your referral code. Other codes that you can also use are TRACE, NOLLYWOOD, APLUS, TFC, GMA, ASAP, Jollibee1, Jollibee2, Jollibee3, Jollibee4, WRBEE, EVENTS, CIMB.
With WorldRemit, the recipient has more options to receive money. They can get it direct to their bank account or direct in their mobile money account. Most importantly, for the unbanked, they can pick the funds in one of the local agents. These agents include Zenith Bank, FCMB, FirstBank, and Fidelity, among others.
WorldRemit is an extremely cheap way to send money to Nigeria. First, if you are a new customer, the company gives you three free transfer transactions. After that, the remaining fees will be relatively small. For example, if you are sending $1,000, the total cost of the transaction will be $10.99.
However, unlike TransferWise, WorldRemit seems to make money through exchange rate fluctuations. While the client will receive N377,855 with TransferWise, they will receive N377,721 using WorldRemit.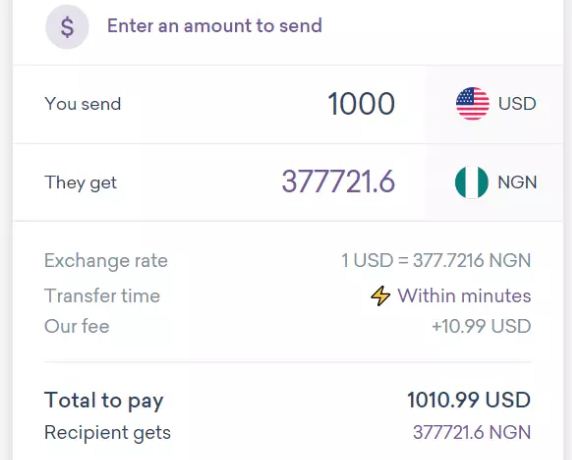 Western Union Money Transfer to Nigeria
Western Union is one of the oldest international money transfer companies. Listed in the Nasdaq, Western Union has a valuation of more than $9.65 billion. This makes it among the biggest money transfer companies in the world.
There are two main ways of sending money to Nigeria using Western Union to Nigeria. First, you can go to a local agent and initiate the transaction. In this, you will just need brief details about the customer. Second, you can use Western Union's online platform to send the money.
While most people are using newer platforms like TransferWise and WorldRemit these days, the reality is that Western Union has some of the best fees. It also has one of the best exchange rate. As you can see below, as of this writing, the company is using a dollar exchange rate of $380. As such, if you send $1,000, the recipient will receive 380,000 naira. This applies when the customer receives the funds to their bank account. If you use a credit card, you will pay a $29 fee and if you use a debit card, you will pay a $2.99 fee.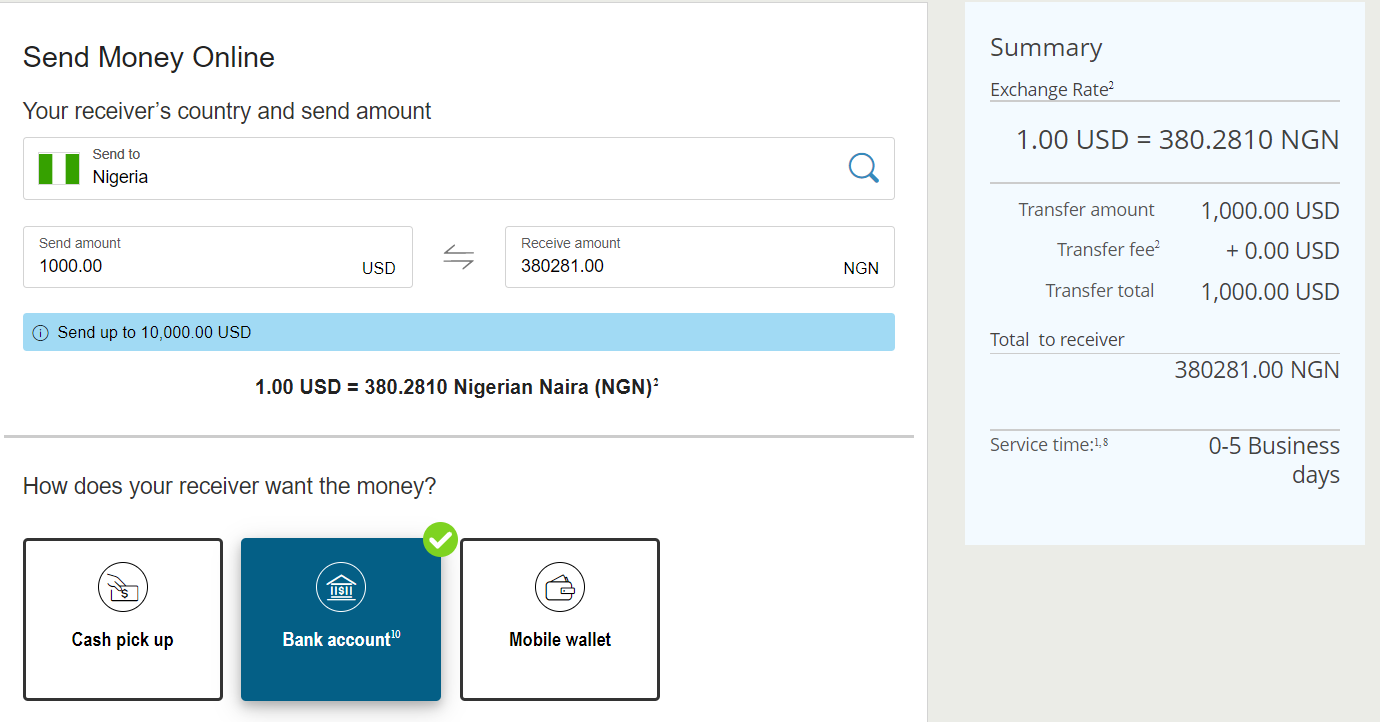 MoneyGram Money Transfer to Nigeria
MoneyGram is an American company that is relatively similar to Western Union. Indeed, media reports suggest that the two firms are attempting to merge. MoneyGram is listed in the Nasdaq and is valued at more than $200 million. The process of sending money using MoneyGram to Nigeria is relatively easy.
You can visit a local branch and send the funds or you can use its online payment platform. You just need to have the recipient's payment details to send the funds. Also, like Western Union, the exchange rate is relatively better than that of TransferWise and WorldRemit. As shown below, the customer will receive 380,090 naira if you send them $1,000.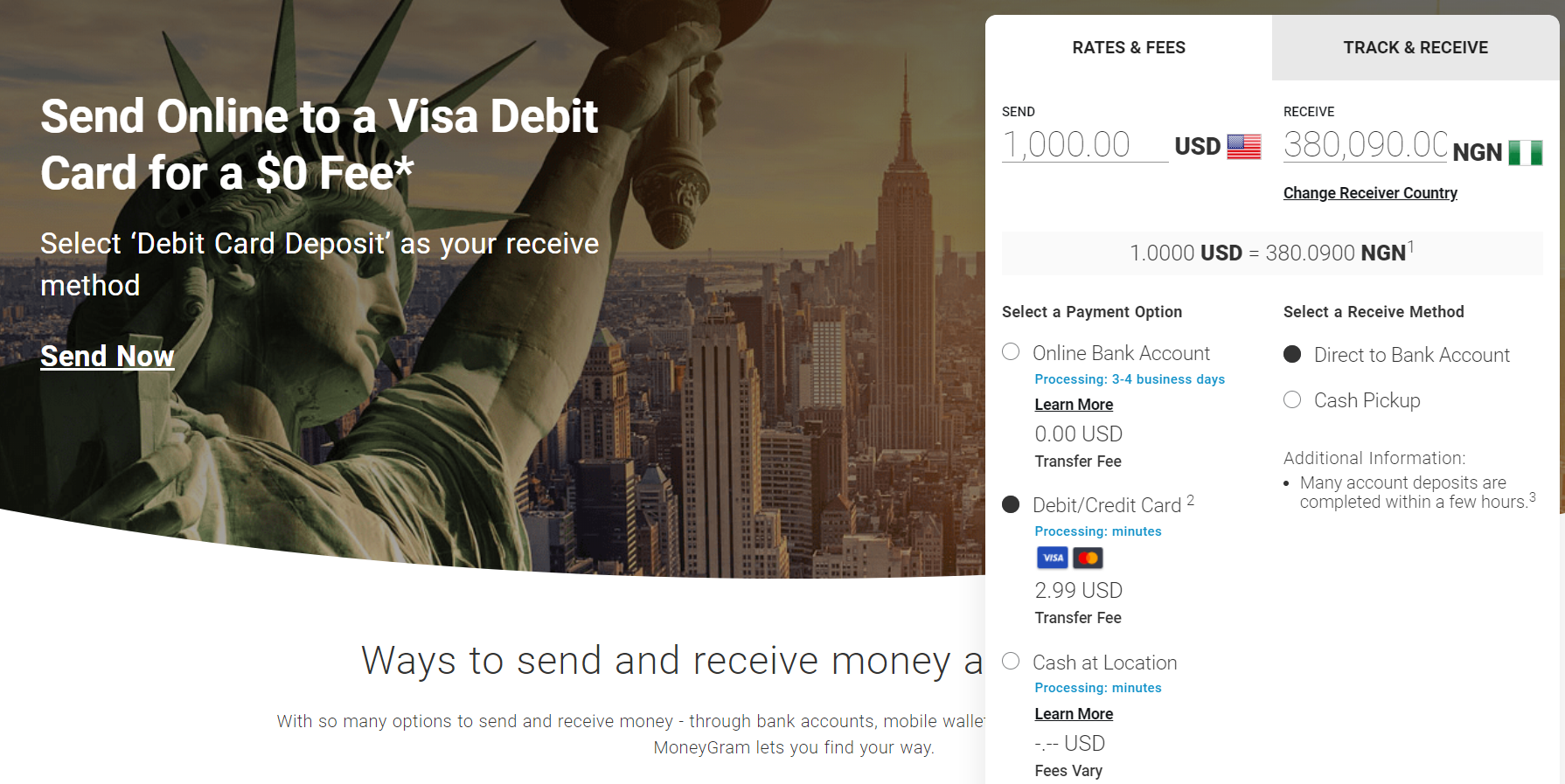 Other Options to Send Money to Nigeria
There are other options that you have when sending money to Nigeria. These include PayPal, Xoom, Xpress Money, and Remitly. If this is your first time, we recommend that you check the fees and the amount the recipient will receive from a tool like Finder and MoneyTransfers. These entities compare the fees charged by money transfer companies.
Final Thoughts on Money Transfer to Nigeria
Sending money internationally has been made easier recently. Today, direct transfers take just a few hours or days, which is unlike what used to happen a few years ago. When sending money to Nigeria, we recommend that you compare the best options and also consult with the recipient for the receiving options they prefer.