Digital money transfer service Remitly offers you many possbilities to send money from the United States to Ghana. Remilty transfer payment options are credit card, debit card, or bank transfer and your recipient in Ghana can receive the funds in three different ways. You can choose an instant transfer plan or a 3-5 business day plan.
Remitly was founded in 2011 in Seattle, Washington with a mission to make the money transfer process faster, affordable, and more transparent. Because we're a digital service without any physical locations, we're able to keep our costs low and pass those savings on to you. All while protecting your hard-earned money as it makes the journey back home.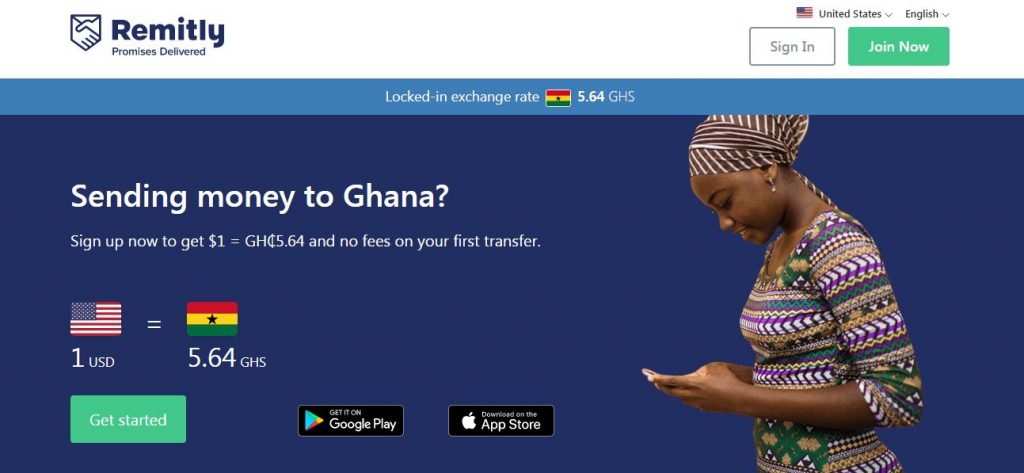 How to Send Money to Ghana From US With Remitly
You need a smartphone to download the Remitly app for Android and iOS. Once the app is installed on your phone, you can go ahead and create your Remitly account for free. Fill in all the necessary information about your transfer such as the amount you want to send and the details of the recipient.
You then need to choose a transfer plan of your choice (see more about transfer plans below). Finally, send your transfer. You and your recipient will receive email and text updates about the state of your transfer.
How to Pay for Your Remitly Transfer
Remilty payment options are credit card, debit card, or bank transfer.
Payout Methods in Ghana
Your recipient in Ghana can receive the funds in three ways. These are direct bank deposit into their bank account in Ghana. Remitly has partnered with the following banks in Ghana: GCb, Ecobank, Access, Absa, Fidelity Bank, ADB, ARB Apex bank, GTBank, National Investment Bank, Republic Bank, and Standard Chartered. The second option is cash pickup. Your recipient can pick up cash in different locations throughout the country. The last option is mobile money. You can send money directly to your recipient's mobile money wallet.
Delivery Time
Remitly has two transfer plans, which determine delivery speed. For instant transfer, you need to use Express plan. However, you can only pay for your transfer with debit card for Express plan. The second plan is Economy plan, which can only be paid through a bank account. Transfers done with this plan usually take 3-5 business days.
Transfer Limits
Remitly has transfer limits based on a three-tier system. Each one requires different set of verification information as shown in the table below.
| | Tier 1 | Tier 2 | Tier 3 |
| --- | --- | --- | --- |
| 24 Hours | $2,999 | $6,000 | $10,000 |
| 30 Days | $10,000 | $20,000 | $30,000 |
| 180 Days | $18,000 | $36,000 | $60,000 |
| | Information Needed | Information Needed | Information Needed |
| | Your full name, your residential address, your date of birth, and the last 4 digits of your SSN | Tier 1 information if not already approved, your full SSN/ITINYour government issued photo ID, and aditional information about your use of our service including details of your source of funds | Tier 2 information if not already approved, and additional information on your use of our service |
Fees
Your first transfer on Remitly is free. After your first transfer, the fees will be as shown below.
Send Amount (USD)
Express Fee (fastest)
Economy Fee (cheapest)
$0 or more
$4.99
$3.99
Security
Remitly is registered with the U.S. Dept. of Treasury as a Money Services Business and licensed in several U.S. states as a money transmitter. The company regularly implements manual and automated risk management procedures that allow them to highlight suspicious account activity. It also protects your data with encryption and two-factor authentication.
Customer Reviews
Remitly scores 4.5/5 on Trustpilot from over 27,000 reviews. 84% of the reviews consider the service excellent while 7% of users say their experience with the company was bad. Remitly is one of the top 10 money transfer services reviewed on Trustpilot.
More Information