Majority is a membership-based challenger bank for immigrants in the United States that offers free money transfer to Nigeria from the US.
MAJORITY is the first-ever financial membership built by migrants, for migrants. After signing up, you get an FDIC-insured account with no overdraft fees, a Visa® Debit Card, fee-free money transfers, free and low-cost international calls, and more!
How Majority Works
You need to download Majority app, Android and iOS, to start sending money to Nigeria. You can use the app even if you are not an immigrant in the US.
Information needed to sign up includes your full name, address, date of birth, Social Security Number (SSN), and Individual Taxpayer Identification Number (ITIN). When making a transfer, Majority might ask you for more information about your recipient, such as date of birth, country of birth, and nationality.
Majority is a membership-based financial institution. As a Majority member, you will be charged a recurring $5 membership fee every month. This will happen after every 30 days. New users, however, can try Majority the first month for free. Membership benefits include an FDIC-insured account (up to $250,000), unlimited money transfers, no-fee top-ups, and low cost international calling.
Following the new policy that allows recipients of remittances in Nigeria to receive funds in US dollars, you need to upgrade your Majority app to the latest version and make sure that your recipient has a domiciliary account.
How to Pay for Majority Money Transfers
To fund your money transfers to Nigeria via Majority app, you need to make payment through cash, debit card, credit card, and bank deposit.
How to Receive Majority Money Transfers
Majority supports money transfers to your recipient's bank account in Nigeria. You can also send airtime top up to your friends and family members in Nigeria.
You can only send USD to domiciliary accounts in Nigeria. If you send USD to a Naira account, the transfer will not be delivered and will eventually be canceled. It might take up to 72 hours to receive a notification of the cancellation.
The receiver in Nigeria must have a domiciliary account and that is where the money will be sent to. How your recipient will withdraw the money and how to change to naira is dependent on the receiver and his/her bank. Here is how to open a domiciliary account in Nigeria.
Majority Fees
Majority provides fee-free money transfer to Nigeria. You only pay $5 a month for your Majority membership. You can send as many transfers as you like. There is also no fee for airtime top up.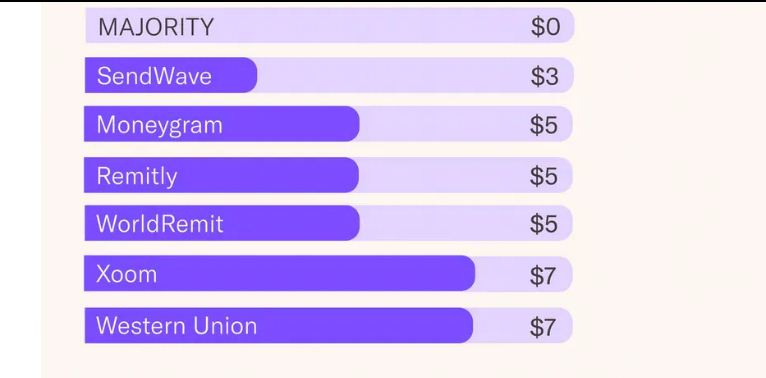 How Long Does Majority Transfer Takes?
Transfers made during Nigerian banking hours are normally delivered in 1 hour, while transactions created outside Nigerian banking hours might take up to 72 hours to be completed. Money sent between Fridays and Sundays will most likely be paid out the following Monday or later.
These new delivery times are only temporary as we adjust to the changes in the market and the directives of the Central Bank of Nigeria. We are working hard to restore our instant delivery transfers, and we'll notify you as soon as they are back.
Is Majority Legit and Safe?
Majority is a legit financial institution. It has partnered with Sutton Bank, a member of the Federal Deposit Insurance Corporation (FIDC). It uses industry-standard encryption to protect customers' sensitive information and data. The deposits in your Majority account are insured up to the standard maximum amount of $250,000 through the partnership with Sutton Bank.
More Information