Dahabshiil ('gold smelter' in Somali) is an African money transfer company founded in 1970. The company allows you to send money to over 35 African countries.
In addition to serving individual customers, Dahabshiil offers money transfer and banking services to businesses and international organisations, including the United Nations, World Bank, Oxfam and Save the Children. They rely on Dahabshiil to provide payment services to their staff, contractors, government institutions and partner NGOs. The United Nations describes Dahabshiil's services as 'the only safe and efficient option to transfer funds to projects'.
How Dahabshiil Works
For a new client, you need to visit Dahabshiil money transfer agent. Find Dahabshiil agent near you here. You need to complete a registration form at the agent location. To meet regulatory requirements, you have to provide identification documents. In some instances, you may be required to provide additional documentation.
After providing your ID, you can then go ahead and present the amount you want to send and details of the recipient. You will receive a receipt from the agent with full transaction details including payout amount, exchange rate, commission fee and beneficiary location and contact details. Your recipient will be notified through a text message.
Alternatively, you can send money using DahabPlus app on Android or iOS.
How Do I Pay for Dahabshiil Transfer?
You can fund your transfer with cash, credit card or debit card. Payment method varies by country.
How Do I Receive Money From Dahabshiil?
Your recipient can receive the funds in cash, which is to be picked up at a Dahashbiil local agent. If your recipient is in Greater Somalia, they can receive money via eDahab (mobile money) or M-Pesa, if the recipient is in Kenya. If you intend to make a non-monetary transfer, you can buy Somtel airtime, Somtel internet bundle and Somtel muraad (unlimited monthly calls). Somtel is a Somaliland-based telecommunications firm. You can also send money to a bank account.
If your transfer has not been picked up after three weeks, the money will be returned to you. You are entitled to a full refund (including fees) unless the transaction was not successful because of incorrect or incomplete information provided by you.
What is Dahabshiil Transfer Limits?
The following countries have a transfer limit as shown in the table below.
Transfer limits in USD($) and GBP(£)
| Country | Payment in USD | Payment in GBP | Daily limit | Payment time |
| --- | --- | --- | --- | --- |
| Bangladesh | $2,800.00 | £1,960.00 | Daily | 24 Hours |
| Pakistan | $3,300.00 | £2,300.00 | Daily | 24 Hours |
| Saudi Arabia | $6,700.00 | £4,680.00 | Daily | 24 Hours |
| India | $2,500.00 | £1,750.00 | Daily | 24 Hours |
| Bahrain | $7,500.00 | £5,240.00 | Daily | 24 Hours |
| Hong Kong | $7,500.00 | £5,240.00 | Daily | 24 Hours |
| Sri Lanka | $950.00 | £660.00 | Daily | 24 Hours |
| Philippines | $4,150.00 | £2,900.00 | Daily | 24 Hours |
| Singapore | $7,500.00 | £5,240.00 | Daily | 24 Hours |
| Palestine | $7,500.00 | £5,240.00 | Daily | 24 Hours |
| Morocco | $7,500.00 | £5,240.00 | Daily | 24 Hours |
| Egypt | $7,250.00 | £5,070.00 | Daily | 24 Hours |
Dahabshiil Fees and Exchange Rate
Dahabshiil fees vary based on the locations of the sender and the recipient and the amount sent. For example, sending £500 from the UK to Somalia, the fee will be £30.00. One of the ways Dahabshiil makes money is through exchange rate markup. You will know the exchange rate before you complete the transfer.
How Long Does it Take to Receive Money From Dahabshiil?
Money is usually available for pickup within 5 minutes+ of sending, depending on the type of service selected to send your transaction. You should ask Dahabshiil agent the approximate time your transfer will take before completing the transaction.
Is Dahabshiil Secure?
Your funds are safe with Dahabshiil. Dahabshiil transactions are secured with end-to-end encryption using AML system, SSL, digital certificates and other security mechanism. It is an authorised payment institution under the Payment Services Regulation of the Financial Conduct Authority (FCA) in the UK. It is a member of the Somali Money Transfer Association (SOMTA), the International Association of Money Transfer Networks (IAMTN), the UK Money Transmitter Association and the USA Money Transmitter Association.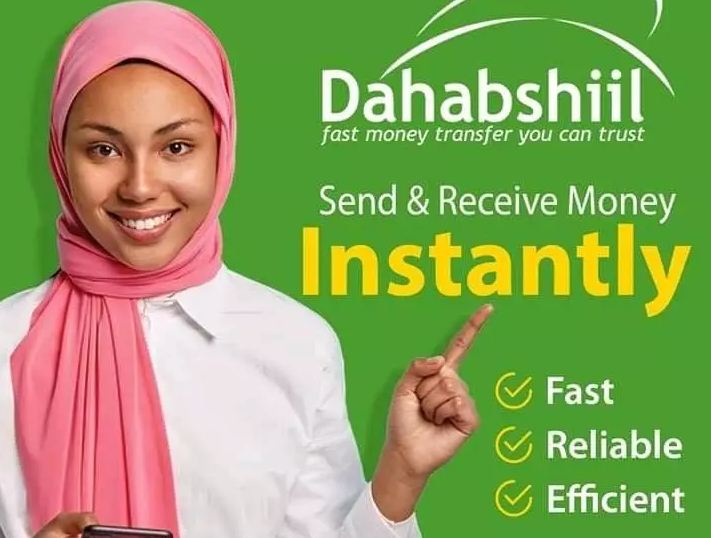 Which Countries Can I Send Money Using Dahabshiil?
You can send money using Dahabshiil to the following countries in Africa: Benin, Burkina Faso, Burundi, Cameroon, Cape Verde, Comoros, Djibouti, Democratic Republic of the Congo, Egypt, Eritrea, Ethiopia, Gambia, Ghana, Guinea, Guinea Bissau, Ivory Coast, Kenya, Liberia, Mali, Mauritania, Morocco, Mozambique, Niger, Nigeria, Rwanda, Senegal, Sierra Leone, Somalia, Somaliland, South Africa, South Sudan, Sudan, Tanzania, Togo and Uganda.
Dahabshiil Reviews
Unlike many other money transfer services, Dahabshiil doesn't have a page on the trusted review site, Trustpilot.
Final Thoughts on Dahabshiil Money Transfer in Africa
If you want to send money to Africa or within Africa, Dahabshiil, which is one of the largest money transfer services in Africa, is one of your options. However, Dahabshiil fees are a bit higher than many other money transfer services we have reviewed here.
More Information About Dahabshiil